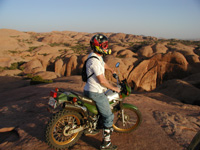 The Slick Rock Bike Trail is located above Moab on the top of on of the canyon walls. Though the trail is almost only used by bicycles now it is a great trail if you go when the area is not crowded.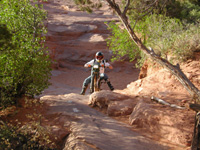 This spot is located near the beginning of the trail just after what I would consider the toughest part of the trail and where the trail first crosses Hell's Revenge ORV trail.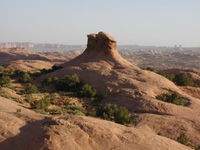 This was the first time I had ever seen slick rock and thought it was very interesting. Shrimp Rock is the highest rock in the area and can be seen all along the trail. Notice the two bikers to the right of the rock.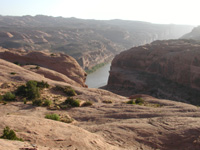 This is one of the many views you will see of the Colorado River far below in the canyon. One side trail will take you right to the edge. Slick Rock trail is considered one of the premier mountain bike trails in the world though it started out as a dirt bike trail.